Misty River Ranch horses for sale

Pricing:

Price zone A:
up to $5,000

Price zone B:
up to $10,000

Price zone C:
up to $15,000

Price zone D:
up to $25,00

Price zone E:
up to $35,000

Price zone F:
up to $45,000

Price zone G:over $45,000

For all enquires regarding horses for sale, please call Sarah on 204 297 5023.

Here is just a small selection of the horses we have for sale here at Misty River. Excellent trial facilities here, nice big heated indoor arena in winter and great outdoor arenas, grass and sand for summertime, with full hunter, jumper and derby type fences. Some of these horses will be in southern California or Florida for the winter. If you don't see what you are looking for listed below, call me, we may have it here somewhere!! Our "back 40" is a treasure trove of current, resting or potential superstars, with varying degrees of experience, just waiting for a new special home. Please email us for links to video and more details.
Three Cups Fire and Ice 16hands bay and white gelding, foaled
2009. Sired by Three Cups Point and Fire. Suitable for all riders; quiet enough for a novice with a big enough jump to keep even the most ambitious rider happy. Very safe, good paces.
SOLD. Congratulations to Tannis on her purchase of this very special horse. We loved him.
Three Cups Firefly
16hh chestnut gelding, foaled 2007, sired by Three Cups Point and Fire. A really quiet to ride, lovely boy. Does hunters, jumpers, dressage, derbies, in fact anything you want to do. Great on the trail and SUPER quiet to ride. SOLD
Three Cups Jack by Nimble
This is a big, impressive black and white gelding, foaled in 2008. Sired by Three Cups Applejack and out of a Hannoverian mare. He stands well over 17hh and is a big gentle giant. Competent and experienced in all the disciplines. Quiet to ride, an excellent mover and a joy to have in the barn. SOLD!!! Congrats to Kerry on her purchase of Nimble; he is to be an eventer, and a very good one he will be too.
Three Cups Light my Fire
3hh chestnut gelding, foaled 2008
A truly lovely attitude to life and his training. Sired by Three Cups Point and Fire, this tall and elegant horse is quiet and easy to ride and suitable for even the most nervous of riders. A brave but quiet jumper and backed up with good flat work. He has a great canter, with lovely smooth changes. Great medal horse. Shows well in both hunter and jumper rings. Regularly shown, won and placed up to 1.15m. Fully registered CSHA.

SOLD.

This spectacular colt, foaled in 2013, is sired by Cathalido and is out of our Oldenburgh bred mare, Three Cups Flower of Scotland, by Three Cups Apple Jack. This boy is the real deal; we are hoping to retain him as a possible future breeding stallion.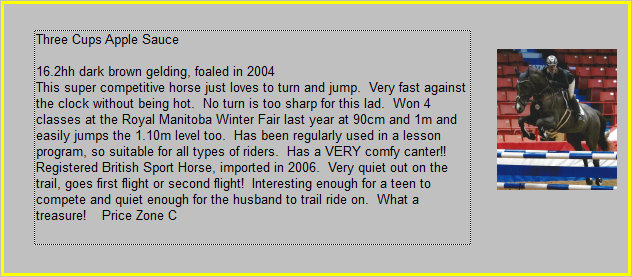 Three Cups Captain Jack

16.2hh bay gelding, sired by Three Cups Apple Jack, foaled in 2009. Correct, scopey and quiet to ride. This guy has a very stylish jump; suitable for hunter, jumper or equitation rings. Placed in two hunter derbies last year; the judges like him! This is a quality young horse with a very bright future ahead of him. Can be seen in Florida. Video link below. Please email for more details.